7 Tips on What to Get When Buying a Car From Someone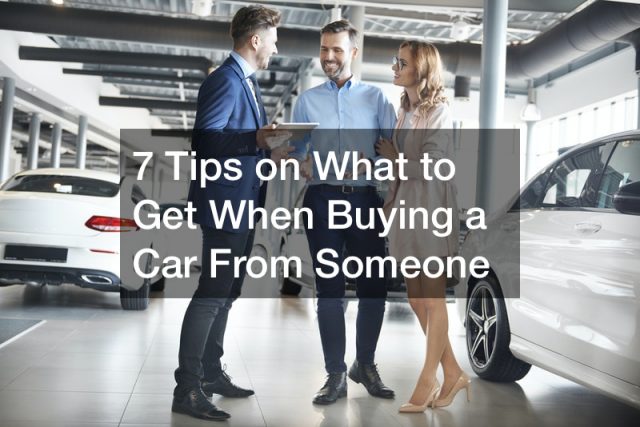 Buying a car from a private seller should not cause you undue concern. It should save you money compared to purchasing from a dealer who is primarily thinking about bills and profits. The question that puzzles most is what to get when buying a car from someone. The classifieds are abundant with privately owned vehicles for sale, frequently from owners who already have a new vehicle on the way and are more open to bargaining than a dealer. Before making any major decision, make sure you know what to get when buying a car from someone.
With a private sale, you will be responsible for handling all documentation related to the sale and change of ownership. Additionally, you will not be eligible for dealer financing or certain consumer protections available when purchasing a vehicle via a dealership. Depending on your arrangement with the vendor, private automobile transactions may also not include warranties. You will have to look for these services privately. Below are seven tips on what to get when buying a car from someone.
1. Get an Insurance Quote
There are several factors to consider when thinking about what to get when buying a car from someone. You'll want to ensure that the car has ample seats for your family, has decent gas mileage, and is reasonably priced. However, it is also prudent to consider auto insurance. While it may seem strange to obtain a car insurance quote for a vehicle you have not yet purchased, there are some significant advantages to looking for coverage before making a purchase.
For many motorists, obtaining car insurance quotes before purchasing a vehicle is a no-brainer. This is because insurance premiums vary according to the type of car purchased. Insurance companies calculate rates based on the possibility of paying out damages in the event of an accident and on the amount they anticipate paying if anything goes wrong. The type of car you drive might impact your chances of being involved in an accident and incur costly damages.
Certain vehicles, like sports cars, are deemed to be inherently riskier by insurers due to their increased likelihood of being stolen or involved in high-speed collisions that result in severe injuries. Obtaining components to fix them can also be more expensive, resulting in insurers paying more in case of any damage. As a result, insurance premiums for these vehicles may be higher.
The least expensive automobiles to insure are often those deemed to be less hazardous. This category comprises automobiles equipped with safety features such as anti-theft equipment, as well as vehicles with less expensive components. Automobiles that pose a lower risk of costly insurance claims will be significantly less expensive to insure. Calculating the cost of insurance for a car before purchasing it will help you make a better purchase decision.
2. Find a Reliable Auto Glass Shop
Similar to hiring a mechanic for your vehicle, locating and selecting a reputable auto glass shop is important when thinking about what to get when buying a car from someone. There are so many repair shops to choose from, each claiming to be the finest and guarantee the best pricing. You want to work with a company that can do a high-quality windshield repair or replacement quickly and inexpensively. One of the most effective methods for locating skilled, economical, and high-quality auto glass repair services in your region is to search online for reviews and ask around. User reviews are the most accurate reflection of a business's type of service and quality.
While you can obtain reviews on the firm's website, they are frequently handpicked by the company and are not a reliable indicator of the reviews. Make use of websites like Google and Yelp to learn about these businesses' reviews, ratings, and comments. Additionally, you can consult with friends and relatives to determine whom they had a positive experience with. The likelihood is that if the business performed a great job for them, they will do the same for you.
Another critical factor to consider is the company's and its personnel's certification. There are thousands of automotive certifications available, but not all imply a company's ability to provide auto glass repair services. While there is no such accreditation for glass repair, many businesses hold ASE or comparable certificates attesting to their years of expertise. When hunting for the correct shop for your automobile, check the website and inquire about the personnel's credentials.
Another successful strategy for locating a great auto glass repair business is to obtain many quotations on services such as auto tints and windshield repair. This way, you can be certain that the amount you pay is reasonable and the service is worthwhile. Bear in mind that price is not always indicative of quality. Therefore it's critical to consider the cost in conjunction with the other elements listed above.
3. Get Roadside Assistance
Roadside assistance is also important to consider when thinking about what to get when buying a car from someone. It comes in handy when you're in the middle of the road, your car won't start in your garage, or your tire blows out in a parking lot. Roadside assistance insurance is often available as an add-on option from most insurance companies. This is a critical benefit that all policyholders should take advantage of. Most of the time, insurance firms work in tandem with organizations that offer roadside assistance. You may save money and time by combining different services from the same supplier, such as roadside assistance.
If you've ever been stuck in the middle of nowhere without aid, you know how crucial roadside assistance can be. The cost of a single tow, which is around $75 to $125, is enough to offset roadside assistance for a whole year or even more. If a policyholder's car breaks down, they will receive emergency roadside assistance. Roadside assistance can provide gasoline delivery, tire changing, and accident towing if your car needs to ba taken to a auto repair shop. It also provides transportation for stranded drivers and passengers, battery jump starts, lockout services, and winching to free a trapped vehicle.
Roadside assistance is distinct from other forms of coverage that you can receive via a manufacturer's warranty or car insurance policy. In most cases, the only thing covered by a basic auto insurance policy is the cost of fixing damage caused by an accident; there is no provision for emergency assistance. Warranties only cover the repair and replacement of malfunctioned components; empty gas tanks and flat tires are not part of the deal.
4. Find a Collision Shop
Being involved in a car accident or other type of collision is stressful enough without worrying about locating the correct auto body shop for car body repair. That search may be one of the most daunting aspects of coping with a collision's aftermath. A vehicle is a valuable asset, so you must choose an auto body collision repair business that will take exceptional care of it and return it to you in a safe and roadworthy condition. Finding a trustworthy collision repair company in your region may be a lengthy and intimidating process, and many drivers are unaware of the telltale indicators of a reputable local auto body shop.
An effective strategy for locating a great collision shop is to inquire about warranties. The majority of reputable collision shops provide a guarantee on the work they do on your car. Offering warranties demonstrates that a collision repair company genuinely cares about its clients' pleasure and takes pride in its specialists' work quality. If a collision repair business does not provide warranties on the services they do on your car, you will be without protection if something goes wrong with the repairs. Always take your business to a collision repair company that provides written, signed warranties on their repair and part replacement services.
5. Find a General Mechanic
Finding a general mechanic is also important to consider when thinking about what to get when buying a car from someone. A trustworthy mechanic will offer you the peace of mind that comes with knowing your vehicle will receive the care it needs if something were to go wrong. When looking for a general mechanic, keep these tips in mind. A trustworthy mechanic should be effortless to reach. Their contact information should be listed in the phone book or easily found online.
Remember to request a cost estimate. The majority of general mechanics will offer to inspect any damage or issues and give you an estimate of the repair cost. You should also plan to sign a service agreement or contract. This document should include identifying information about your vehicle and an approximate completion date. Before leaving the garage, ensure that you acquire a copy of this agreement.
Expect to pay the remainder of your payment before collecting your vehicle. While some technicians may be able to work out payment plans, you will often be expected to pay the whole amount when picking up your vehicle. The majority of general mechanics offer many payment options, including credit cards.
While you should be patient, do not let a sluggish mechanic hold your vehicle for months at a time. Recognize that car parts must be acquired and arranged in chronological order. That being said, if your automobile has been with a mechanic for six weeks and you are not receiving honest feedback from garage staff, do not shy away from taking your vehicle and business elsewhere. Pay your mechanic and arrange to pick up your vehicle as soon as possible.
6. Clean and Detail the Car
When purchasing a car, that's hard-earned money spent. Some individuals save for a vehicle for years, if not decades. So when thinking about what to get when buying a car from someone, getting it cleaned and detailed at a car wash should be a no-brainer. Cleaning and detailing the car is an efficient way of maintaining it and keeping it looking as good as the day it was acquired.
Your car will last longer and retain more value if it is well-maintained, just like anything else. Detailing the vehicle regularly or as a hobby is an effective method for keeping a vehicle looking new for longer. Using appropriate processes and high-quality materials will safeguard the vehicle. The use of a high-quality wax, sealer, or coating on outside surfaces will aid in the preservation of the paint below. The wax, sealer, or coating not only shields the underlying areas from the sun's UV rays but also makes cleaning the vehicle easier and keeps the paint shiny.
7. Know Local Accident Attorneys
Nobody anticipates getting in a car accident, much less dealing with the aftermath. A local accident injury attorney can assist you in pursuing your claim and obtaining the maximum compensation possible for any damages caused. Thanks to their experience with such cases, they can handle the legal procedures while you focus on recuperating. The lawyer can investigate your accident and acquire the evidence essential to establish culpability in your claim, such as acquiring surveillance footage of the collision to determine if the at-fault motorist was speeding.
Additionally, they may determine if the evidence identifies the at-fault motorist and the sort of collisions you had, such as a side-swipe accident or a rear-end collision. They can contact witnesses and obtain their testimony. You may rely on their legal expertise and counsel to help gather evidence and determine culpability in auto accidents.
It's important to have a clear picture of what to get when buying a car from someone. But if you aren't bothered by spending time doing some research, you can save a substantial amount of money by avoiding the dealership. Take the time to investigate the automobile you're interested in purchasing, ask a lot of questions, take it for a test drive, and have a mechanic examine it before you complete the deal and drive away.